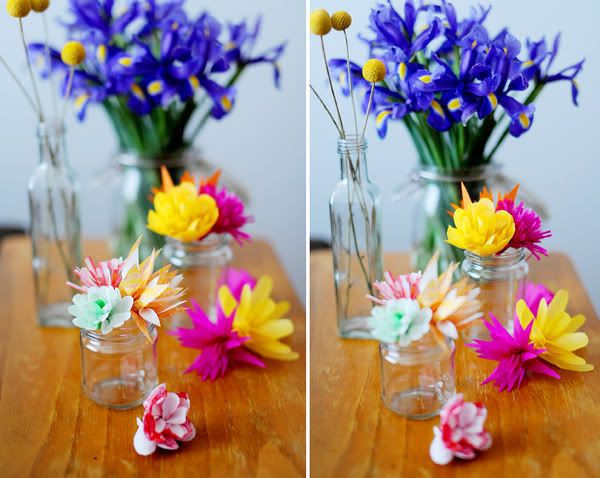 I got a few comments on
this spring table post
from readers asking how to make the paper flower decor. I've put together a detailed tutorial showing lots of different paper flower variations, all using the same (quick and easy) technique. It's really very simple and you don't need to be particularly talented or buy lots of supplies. You probably have everything you need at home right now.
For making these flowers you need:
- silk paper or any other thin paper sheets
- nylon string and/or some tape
- scissors
- cocktail sticks (for the centerpiece flowers)
- optionally a bit of paper glue
Start with a strip of paper sheet and fold it up into one direction.
Then cut one end into a rounded arrow shape.
Unfold and start rolling it loosely together. The more loose you roll it, the more open your blossom will be in the end.
When you're done, tie it together with a piece of nylon string as shown in the picture. Trim the access paper with scissors, and you're done. It's that simple!
If you want your flower on a stick, do exactly the same as above, just roll the cut paper sheet around a cocktail stick (you could paint the stick before if you like). To make it extra stable, you can place a few drops of glue onto the stick before wrapping the paper around it. When you're done, fixate the blossom bottom with a piece of tape. I used masking tape here, but transparent tape works nicely too.
You can make a bunch of different flowers with this technique. Use a shorter piece of sheet and wrap it a bit more tightly - you'll end up with a neat, little blossom (like I used for the spring table decor).
Cut the end of the folded sheet half-round and get a more romantic flower.
Or a more open one when you cut the sides a bit lower, as shown below.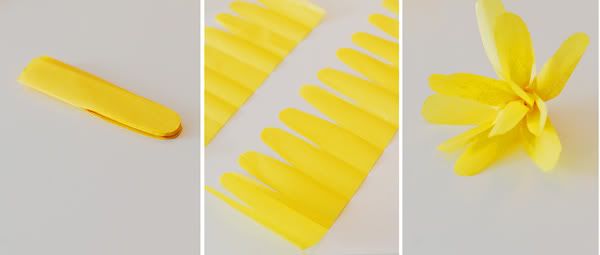 You can make paper carnations by cutting tiny fringes into the paper strips. For a full carnation, you'll need twice the length of sheet as for the blossoms above.

Or use two colors of paper for one flower.
Just experiment a bit. It's really a lot of fun to see how different the flowers turn out by just changing the cutting technique, the sheet length or how tight/loose you roll the blossom together.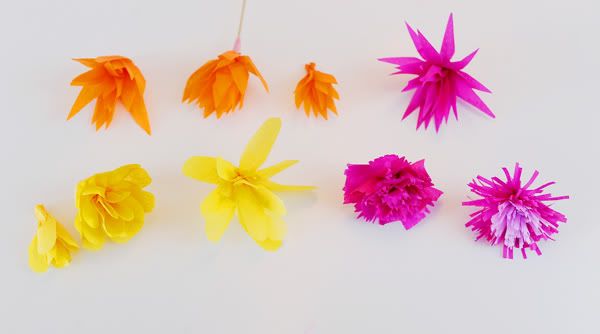 And it doesn't need to be silk paper (although it is really easy to work with). These babies are made from origami paper sheets. You could also use newspaper, old book pages, regular white paper tinted with water colors, some metallic foil (i'll definitely try this!), etc.
Make large flowers for place settings or room decor (or as centerpieces, too), medium sized ones for centerpiece arrangements and small ones on top of cocktail sticks or as cupcake/cake toppers - whatever floats your boat, really. The options are nearly endless.
Enjoy!
Oh, and while you're in the crafty mood, enter our diy contest
here
!